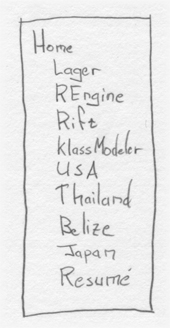 Back in the summer of 1999 my friend Greg and I took off to ride across country. Our original intention was to go to the Burning Man festival in Nevada. We never actually got there, mostly because after a few days of riding through the desert, the last thing we wanted to do was sleep in the frickin desert. So we went to the Hoover Dam, and then went home. Greg took some cool photos though, and I'll put them here.

The adventure began at Greg's place, but Greg didn't remember about the camera until we got to a super market near Niagra Falls. Here's me in the parking lot. And Greg in the same lot pointing out which motorcycle is his. From there we went to the falls. This is Tesla. And here's me watching the falls. Here's me coming to grips with the concept that with one quick muscle contraction in a jumping motion I could put myself on a short path to a painful death. And here's Greg after I explain that theory to him. Ouch. Here's an embarrisingly stupid looking one of me hauling my gear into our first motel room. We made it as far as Cleveland Ohio that day. Here Greg learns about Specular reflection.

Here's my Motorcycleon the begining of day 2. We stopped at some gas station/fast food market called Big Foot or something. Thay had cool signs. That night we made our way to Greg's parent's place in Missouri, not too far north of Springfield. Here's the dog showing off her goods :) Here's me and the folks. Here's the men folk. Here's us getting ready to go. Greg's mom is doing the usual mom thing and worrying about us.

From there we went to visit Greg's bro and a local motorcycle shop because I was looking for a new rear tire and Greg needed something for his ride. Here's a shot of the dude who ran the joint. This guy was the coolest guy I've met in a long time. He gave us little pocket calendars with topless girly pictures. From there we went to pick up some ear plugs and a canteen thing for drinking water while riding through the desert. That night at another motel I show of one of my trophies I picked up on the road.

The next morning finds me in yet another allergy attack. I think during the course of this trip I sneezed out twice my body mass in snot.Cop Car, midwest style. They need them out there, those people in Indiana actually think they are stock car racers. They cruise down the highway at 90mph drafting each other. An excellent lunch spot in Oklahoma. Notice that both of us are clutching our water bottles. Fricken desert. Greg learns to take pictures while riding. This one is from Amorilla Texas. The lady in the store was on the phone with her kids and yelling at them. They she got off the phone, looked at us, and in her thick hick accent asked, "what did I do wrong to have God curse me with my children?" I also met a cool dude in the parking lot who pulled up to talk to me in his MASSIVE old car. No joke, the guy had no shirt on, was wearing hick sunglasses, and was drinking a Bud while he told me about how he had a motorcycle and used to ride it around. Then he took one huge gulp from his pound of Bud, and drove off into the sunset. Here's more open road. I can't tell you how many hours of that I saw. No turns out there, just miles and miles of straight. Greg's showing off his spedometer in this one. I can't read it, but I guarantee it's pointed just past really fast. More road. God Bless Motel 6.

Uh oh. Now we get to the sad part of our trip. Greg met some guy in Albuquerquerqueireque who showed Greg some route on the map that was supposed to be the coolest thing in the world. Well it turned out it was, but it started with a trip through the scariest town in the entire United States. We had been on the road for a while and according to the map we where coming to the largest town that we where gonna see that day. It was Shiprock. I shiver just thinking of it. The town was nothing but currugated metal shanties and rusted out cars in people's yards. They had a little town center complete with a gas station. You probably can't see it in that picture, but that is me in one of my most panicked states. I thought for sure those scary hicks where gonna skin us alive and bury us in one of their rusted out yard trucks. And of course, what road would you expect to lead you to such a horrifying place? You guessed it, route 666. Still, it was almost worth it for a picture of us by that sign. Mom would be so proud. From there we headed west, and met up with a very large, very scary rain cloud that looked ready to dump on us. So we pulled over to get our rain gear on. Some other dudes where racing out from under the clouds. This was actually a fun stop. Living in the city you don't often get a chance to be in a place where there is no one and nothing around for miles. It was absolutely desolate. Except for Greg and the motorcycles of course. That night we stopped in Kayenta, which is a nice little town. Very expensive though because it turns out that it's the only town by the Valley of The Gods. But it was worth the cash because they have all sorts of perks in those fancy motels.

The next day we awoke and rode out to this scene. Very pretty, isn't it? More shots of the road. Here's some of me. From there we stopped at some dam. I forget the name, but it was impressive. The riding out there is amazing, here's a little rest stop. The cool thing about this one is that we could see this tiny little winding road out there and I sort of wondered what it was and where it led. Then 5 minutes later we where on it. Instant gratification rules. Here's me and the motorcycles. This little stop was pretty cool. A bridge Way high up. Me on said bridge. Check out the sign in this one. For all those who where dying to see it, here's a photo of my ass. This was some national park or something. Very pretty, with fun twisty roads. At this point we're getting into high altitudes, it started getting cold. Next we stopped at this huge hole in the earth. This next one is amazing. I have no idea how it came out so well. I take credit for pointing down and telling Greg to take a picture of it. But he gets the credit for actually taking the photo. No lie, this is really an amazing shot. This next one is really ugly ;) This one is funny because behind Greg is the Grand Canyon..... The fricking GRAND CANYON, but Greg was all interested in this silly red flower. I kept telling him we have flowers in Boston so he should turn around. Here's me yet again realizing that with one tiny little jumping motion I could put myself in immediate harm's way. Greg at the same location.

From there it was off to Vegas. I got to ride down the strip, but there are no pictures because Greg thinks the strip is evil or something. He'd rather stand around looking at holes in the ground. I'll never understand him. Anyway, the next day I finally found a BMW shop that had a tire for my motorcycle. Mind you, I started looking in Missouri, and tried again in Albuquerqueruerikiqueri, and didn't find anything until Vegas. My tire was REALLY bald by then. While I wait for my new tire I take some time to look at some inferior machines that had probably gone about 100 miles in their whole lives. At this point in the trip Greg and I had about 3000 miles down. Oh, that damn shop put a super sport tire on my motorcycle, it was completely shot by the time I got home. Good going, put a sport tire on a cross country motorcycle. Stupid BMW shop in Vegas. Like I said, they mostly do Harleys, they're not used to people who actually ride their motorcycles. Anyway, from there we went to hoover dam. They have tall statues there. These are the overflow basins at the side of the dam. They led down to these monsterous holes that led the water around the dam to the other side. I can't begin to explain how enormous those drain holes are. Here's a view down the side of the dam. And here's me again fearing that tiny little rogue electrical signal in my brain that says "jump." Greg points out that in fact it really is a long way down. These electrical towers are really cool. The road again. This is significant because it's the first shot of the road leading home. Again, Greg is going very fast. This shot pissed me off because there where signs very specifically saying it was illegal to pull over to the side of the road to sightsee. But Greg did it anyway. Here's a shot of the cars that where screaming by, all of them dying for the chance to kill us as we tried to merge back on the road.

The next day found us at the start of a really pretty stretch of road. It was sort of cold as we where going into the higher altitudes, but it was pretty. This statue is funny because it had a flower growing out of its breasts. Yet another national park. Frickin Greg wanted to stop at all these things. More road. This one's pretty cool, that's me in the background. At the top of one mountain we had a nice view. Here's the road. Here's me waiting impatiently for Greg to stop taking photos so we can get back on the road. Where I gre up, we tried to avoid squirrels on the road, out west there's a different problem. Here's a really high altitude shot. The sign says how high it is, but I can't read it. Here's another frickin national park. This one was more fun then most because it had a cute park ranger to flirt with. Yet ANOTHER fricken national park. This one was just some stupid drawings on rocks done by a bunch of dead people. Greg found other things to look at, pedophile. Next we enter the corn fields of the midwest. Nothing but rednecks and cow poop as far as the nose can smell. Here's a gas station. Here are our awesome motorcycles. This one is Greg's. Here's a night shot. This was cool because we where riding down the highway trying to figure out where to spend the night, when all of the sudden, like a holy beakon in the night, this giant sign stood out in the evening. This wonderful symbol of all that is good and pure. This icon of faith and happiness. You can see it in the background of this shot. It says ADULT 24Hrs. We stopped there for the night.

The next day we stopped by at Greg's friend's place. I think his name is Pete. I don't remember the girlfriend's name. They made us chicken. I like this one because you can see Pete's girlfriend in the background pushing the lawn mower.

And finally, what was the last picture Greg took before his camera froze up? What was the final shot in our epic trip? Did it sum up our experience, our walkabout into this great country of ours? I think maybe it does.