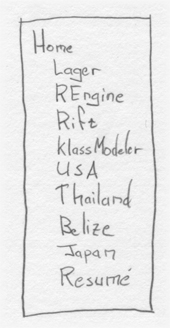 Boy is this ever a long story! I probably shouldn't bother to get into why I decided to go to Thailand because that would take forever. The short version is that my cousin went and I wanted to go to. So on September 19th of 2001 my mother dropped me off at the Philadelphia International Airport with nothing but my backpack full of traveller stuff. The next 30 hours or so where spent flying all over the place, first to Newark where a bomb dog sniffed my backpack, then on to Chicago, then to Korea where I ate at a Cinnabon, then on to Bangkok. If you've never seen Bangkok then there's really no way to describe it. It's hot, dirty, smelly, and PACKED with people. Freaking crazy place. Anyway, first stop after the airport was to Khao San Road. This is the place where all the travelers go. Again, it defies explenation. This is a shot from one end of the street. This one gives you a better idea of the congestion. The street was like a row of stores, then a sidewalk, then a row of vendors and stalls sort of bulging into the street, then all the parked cars and walking people and stray dogs. Ultimately it left about one lane for moving traffic, which consisted of taxis, scooters, motorcycles, tuc tucs and bicycles. First order of business was to find a place to stay. I settled on the Hello. Here's a shot of the sign on the sidewalk. This was your usual guesthouse. For $5 a night I got a little room with a bed and a stool and nothing else. The bed comes with a pillow and a sheet to lie on. There is one common bathroom per floor. That was a weird night for me. Thanks to jet lag I was completely wiped out at 7pm, so I went to bed. I was embarrased to wake up as late as 11, but I felt completely rejuvinated. I got dressed, walked outside my room, only to find that it was actually 11pm! Jet lag is weird. Anyway, next day I walked around a bit and decided that Bangkok was the scariest city on the face of the earth and I didn't want to be there. I went to my email and read my cousin's first letter from Thailand. According to his letter he spent one night in Bangkok and then went to Kho Phan-gnan, so I decided I wouldn't loose any points for going to Kho Phan-gnan that day. So I headed to the train station and bought bus tickets. Unfortunately the bus didn't leave until the evening. The guy suggested I head to the Siam Center. This part of town was the tech center, with a whole bunch of western influence. Basically a bunch of malls. Here's a shot of the crazy traffic patterns from one of the walkways above the street. Here's another. Take a good look. They drive on the left over there and this street has 5 lanes going one way, and 2 going the other. Then notice the scooters up front. At every red light these scooter people all ride between the cars to get up to the front, resulting in a mob of scooters up front. When the light turns green they all buzz out in a mob. I don't know how they avoid the cars. Another thing worth noticing from the photo is the bunch of people with a push cart or something in the left lane.

Anyway, after a day hanging out at the malls I went back to the train station to catch my bus. The Thais have a crazy bus system. You can catch busses to anywhere in the country and it seems to be how everyone travels. I got on a bus with a bunch of tourists and headed south. The bus ride was around 10 hours long and really uncomfortable. But in the end it was worth it. We all got to some tiny town in central Thailand and cought another bus to a port of sorts on a river. From there we where sorted into groups depending on what island we where headed to. It was kind of funny, we all got different colour stickers to wear. It wasn't long before I got on a rickety boat with around 100 other people to go to Kho Phan-gnan. I should point out at this time that you'll notice I spell some Thai words different then you'll see on some web pages. This is because the Thai's seem to translate their words into English with different spellings. It's sort of odd to buy a ticket somewhere and see 4 different spellings for your destination as you go.

Anyway, while in Bangkok I had bought reservations to a resort for the first 2 nights. This was a nice place with a very cool family that ran it. It was here that I had my first ever coconut. You can see it in the photo lying on the ground next to the bucket. The cool part about it was this cool Thai guy just asked if I wanted a coconut on the beach. I said sure so her ran to the beach, ran up a tree, and whacked down a whole bunch of coconuts. Then he cut off the top and handed it to me. So I stood on the beach and drank it while talking to some french guy. Not a bad first coconut. Here's a view of the beach. And here's my little hut.

Next day I decided to take a bit of a stroll. Figured I'd walk across the island. The island is around 6 miles wide or so, so it didn't seem like a terrible idea. And the first half of the island is very flat. However it's not too long before I was suddenly walking up and down amazing hills. Keep in mind it was around 90 degrees out too. Not the most relaxing walk of my life, but nice anyway. At the first hill they where building a house halfway up. The place would have an amazing view when it was done, but not a very accesible driveway. Here's a shot down the hill and here's one facing up. I also tried doing that trick where you take lots of pictures and paste them together. So this is the view from the site. Here's a rather boring shot of some trees. And some more. Here's a really nice composite shot from later on in the walk.

The next day I left that place to move to a larger beach with a few more tourists. Here's a parting shot of where I was staying. I liked my new place much better, and actually spent most of my time in Thailand, about 3 weeks in the new place. I had a nice hut right on the beach, with this view.

This is a picture of the coolest tree I've ever seen. The thing grew roots from its branches, that crept down and became new trunks. So the middle trunk was actually a mass of trunks, with lots of little roots creeping down to make more. Luckily it was also strung with a bunch of hammocks, the one in the lower left corner being the one I spent a LOT of time in. Very nice. Here's another shot from my front porch. The tide is halfway in. The beach was very flat, so when the tide went all the way out the beach became very long. That little boat in the foreground was funny because it didn't even pretend to try to float. When the tide came in, it just got submerged. Here's some coconut trees. They where everywhere. Here's my hut again. I had the right half. Another view of the beach and the "boat." View of the beach from my hammock. This one is of the main hut where the kitchen and TV and eating/hanging around area was.

After 3 weeks there all my friends left, so I decided it was time to move on myself. I decided to check out the island of Kho Pi Pi. That actually turned out to be something of a mistake as the island wasn't particularly nice. I mean it was pretty and all, but it was way more built up and full of tourists and fancy hotels. But I did get to go scuba diving, which was fun. They also had a nice Irish bar where I could drink Guiness, which was a welcome break from all the crap Thai beer I had been drinking up until then. Anyway, I only spent 3 days in Kho Pi Pi and then decided I needed to leave. On my last day I toured around a bit and took some photos. Most noteworthy was then I got lost and wandered down some path and found this sign. It's hard to read in the photo, but the blue lettering says "View Point." Also notice the blue bag on the left. That was hooked up to a pulley system for getting goods up and down the mountain to the little town about halfway up. Nutty! It's always hard to get photos to show how steep something is, but here's a shot up the path. You know you're in trouble when there's some kind of safety feature in Thailand. The country really has no lawsuits or anything, so EVERYTHING is do at your own risk. Anyway, in the last picture you'll notice the handrail on the top stairs. Handrails are the Thai way of telling you that the path is way too steep. Here's a shot looking down from the same spot. And here's one looking down from the top of the handrails. This shot is hard to see, but at the bottom of the handrails isn't a path, it's more stairs. Yet another shot down. The little roof is a bench, I guessed for taking a break. After all the stairs the path became a bit flatter. A bit further. Still further and another littls spot to stop. Eventually the path led to a group of houses and a field of something. Upon closer examination a friend of mine pointed out that there are pinables in those little bushes. After the fields the keep going. Eventually the trees thing a bit and you can see across the island to the mountains on the other side. This was a pretty cool view but nowhere as cool as it was gonna be. Eventually the path finally got to the top, where there was a little store complete with a little Thai guy and a whole bunch of cats. The store sold bottled water at a huge markup, around 50 cents a bottle, but it was worth it. The climb really was long and it was DAMNED hot. Anyway, the friendly guy pointed out the view to me. That little strip of land in the middle is where the town is. It's a very short walk from the beach on the north side of the island to the beach on the south side. The island of Kho Pi Pi is actually 2 islands, Koh Pi Pi Don, and Koh Pi Pi Leh. I don't remember which one I was on, but the other one is off limits. It's a long story, but the off limits one is where they filmed the movie "The Beach." You can see the other one off to the far left of the last shot. Anyway, after I checked that out the nice Thai guy suggested I go out back and look at his garden. Turned out to be a REALLY pretty garden with lots of flowers and little rock paths going through it. Here's my first look at it. And another. The roof to the left is the little shop with the expensive water. Here's a shot from the garden into the forest behind it. Another garden shot.

From there I climbed back down the path and decided to take some beach pictures. There are two beaches, north and south. The south is deeper, with more boats and commerce and stuff. The north is prettier.

From there I made a hurried flight out of Thailand. I was craving some civilization and some big cities, so I headed to Singapore. I didn't really take any pictures of the city, because I figured there are probably a zillion online. So go find some pictures, it's an AMAZING city. Massive like I never imagined possible. My first day there I wandered around a bit, then learned how to use the subway. Amazing subway system, takes you everywhere (of course the whole country is tiny so that's not hard). I headed out to the Chinese and Japanese gardens, on the east side of the island. Here's a shot from the Japanese gardens. And another. No real description, just some pretty shots. More, more, more, more, and more. Then I headed to the Chinese Garden side of things. Check out this amazing court yard. Every two steps I took looked unreal. One last. Luckily I was there for the Lantern Festival and DAMN was it cool. All sorts of lanterns shaped like everything. They had them in the water, on land, even climbing trees. They had buildings, monkeys, dinasours, and random shapes. Here's a wall of them. Unfortunately I had daytime film, so no real pictures of what they looked like lit up. I tried, but all I have are negatives with nothing on them.

The next day I went to the Jurong Bird Park, which has a massive aviary and the tallest man made waterfall in the world. The birds where cool, but the mire cats where cooler. Turns out colonies of these things take turns doing very specific chores. This guy was on lookout when I was there. He just sat there looking around. Sometimes he'd stand on his hind legs, using his tail as a third leg for balance. Here are some water birds. The rail in front is for the monorail. Here's that big waterfall I mentioned. And from another angle. The waterfall and all sorts of birds, where all inside this huge aviary. The big tube leading into it was for the monorail.

Anyway, after my stop over in Singapore I headed on to the best part of my trip, Sydney, Australia.
Syndey was far and away the best city I've ever been to. This place really just rocked. I spent my first few days doing the usual tourist stuff. No real need to describe these photos. We all remember the Sydney Olympics, these are shots of the opera house. And the city from the opera house. And from in the back of the opera house. And the bay bridge from the opera house. Still, it was damned cool to be there.

So from that point on the trip got even cooler. I rented a motorcycle from the lovely folks at Bikescape. These guys where cool and they had nice motorcycles. So if you're ever out there renting, go for it. Anyway, here's the first shot of my new best friend. It was a Honda CBR 600 or something. Doesn't matter, it went really fast and was a complete thrill to ride. I took it on a nice loop from Sydney out to the Blue Mountain range and Canberra (Australia's capitol). I don't even know where most of these are taken, but it's pretty anyway. Somewhere out there I found the coolest bookstore/restaraunt in the world. Here's how it looked. The place was filled with old used books, and a little kitchen. I had some kind of breakfast there you couldn't imagine. Eggs, coffee, sausage, bacon, ham, some kind of carrot salad, and beets. They put beets on everything out there, even cheeseburgers. Amazing grub. From there I rode back to Sydney. Directly to the South of Sydney is a national forest, which is really cool. Here's a shot as I was just getting to the forest. Here's the sign to prove you really could get to Sydney through a park. After zipping around next to trees and rivers and what not I sudenly came to this really cool field. Boy was it all pretty.

Anyway from there I spent a few more days in Sydney with the motorcycle, taking day trips all over the place. Just to the north of the city is an amazing stretch of road. Twisty and turny with mountains and the sea. On Sunday it was packed with motorcyclists. It was a trip. I didn't take any pictures though, I was too busy riding. Eventually I had to give the motorcycle back, and I had one last day to hang around Sydney. So I spent it at the Royal Botanical Gardens. These things are great, right on the edge of the city is a massive park, filled with all kinds of trees and flowers and animals and stuff. Totally peacefull and nice. I got a kick out of the signs at this place too. I took some more pictures, but they're all on a roll I haven't had developed yet. I suppose I'll add them here sometime. From there I went back home.